Microsoft has recently revealed a new application as part of the Power Platform called Power Pages as part of the Wave 2 roadmap. Power Pages is a secure, enterprise-grade, low-code software as a service (SaaS) platform for creating, hosting, and administering modern external-facing business websites. Its goal is to cater to low-code users and professional developers to rapidly design and configure websites that work across all devices. As the newest application to the Power Platform, you can build on the existing infrastructure and data stored in the Microsoft Dataverse. That means your Power Pages can connect with Virtual Agents, Power Apps, Power BI, Automate and hundreds of other connectors.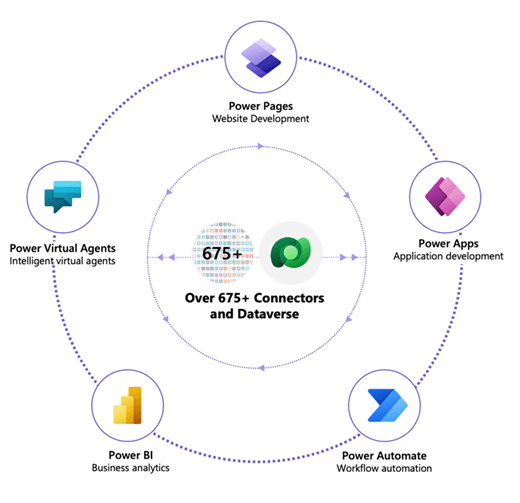 Microsoft has provided a free 96-day trial if you have an appropriate work email address. You can sign up at
https://powerpages.microsoft.com/en-us/
We have had a chance to try this ourselves and are excited to publish our insights.
Microsoft Pages is easy to learn
Power Pages is built on the Power Apps Portal infrastructure, and they've used this to make the user interface intuitive, clear and provides an informative tutorial as you get to grips with the application.
Power Pages introductory tour to support onboarding new developers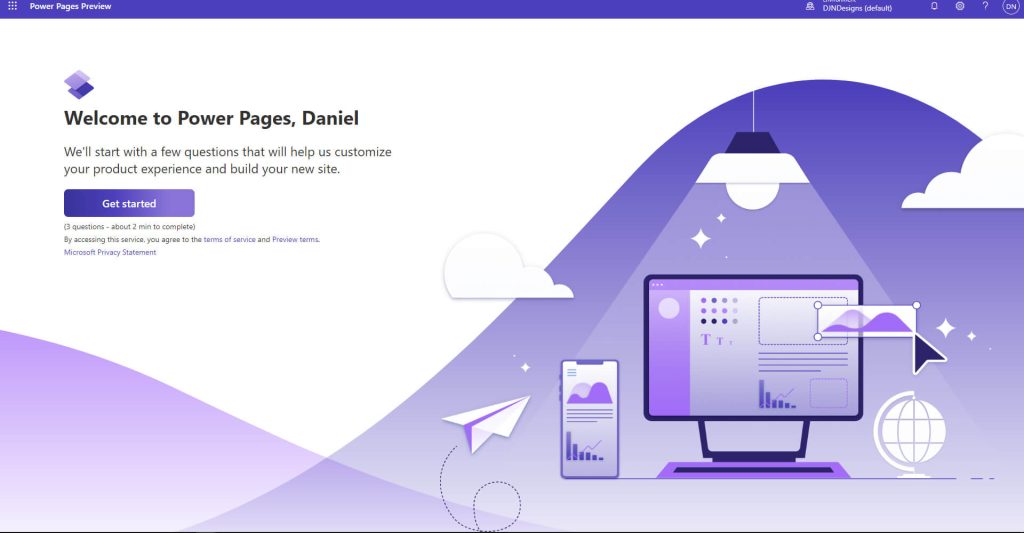 When you first sign up, the Pages application asks you about your existing experience creating websites so it can tailor the user experience to your needs.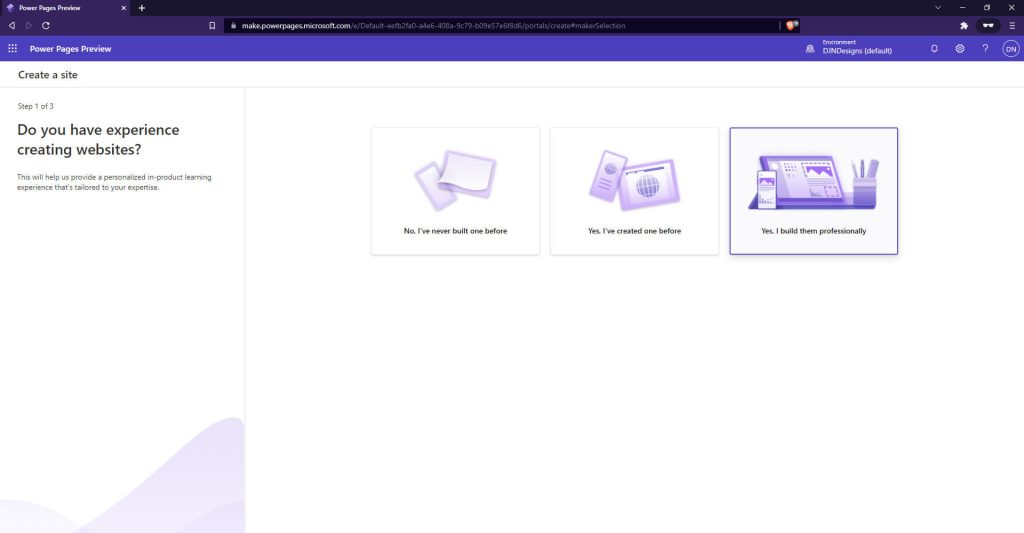 Once the user chooses the experience, it will take you to the home hub with tooltip boxes explaining how to navigate the app, such as how to choose new colour schemes, preview your site and power your website with data.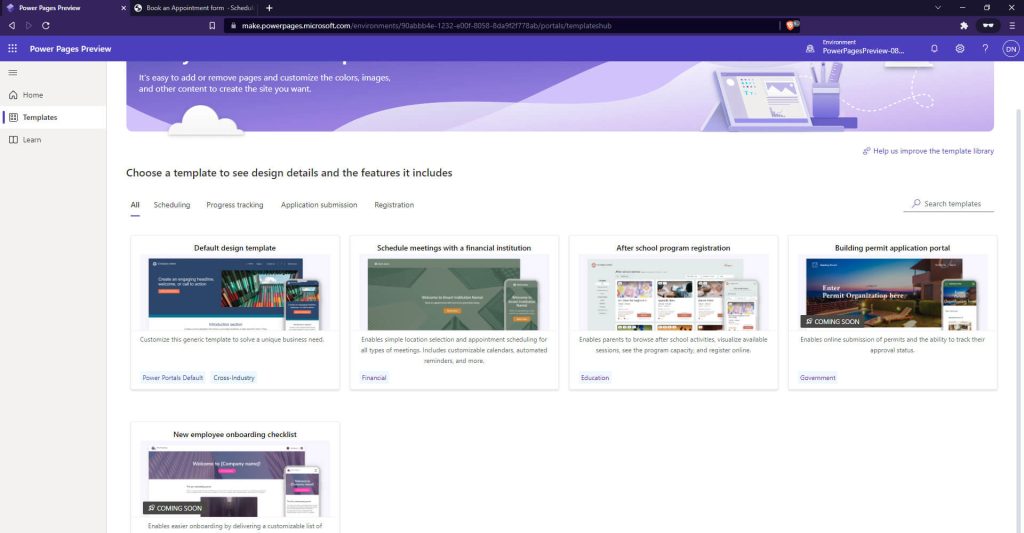 When you finish the tutorial, you can choose from a selection of templates for your first web portal. Currently, these are generic, finance and education templates, but also has previews for HR and construction industries currently in development.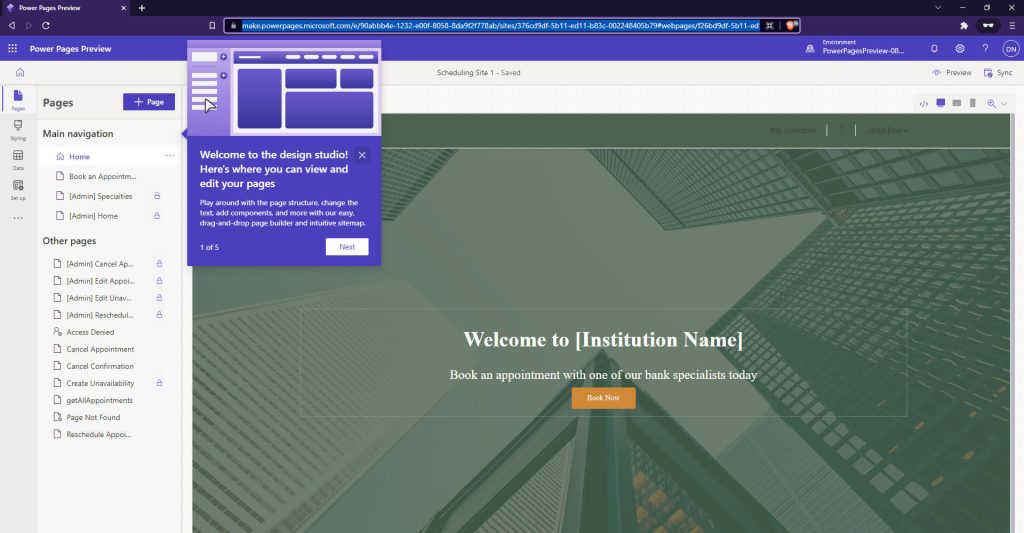 The financial template provides a basic design with a few pages that can be customised by colour scheme, fonts and spacing.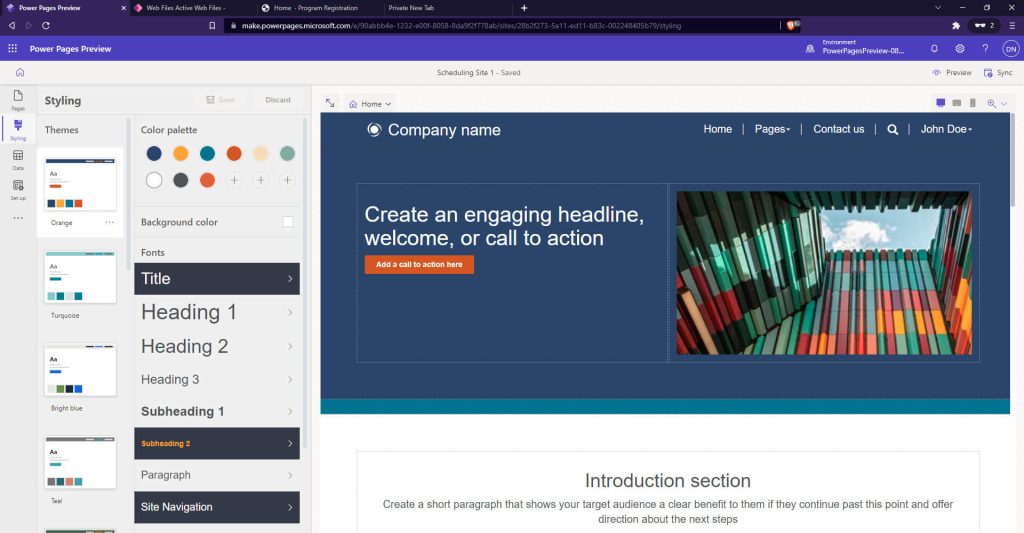 By navigating to the 'Page' on the left-hand menu, you can fine-tune the content and layout of individual pages. Users can change the layout, section background colours, move content blocks around and other typical features you would expect from a web page editor.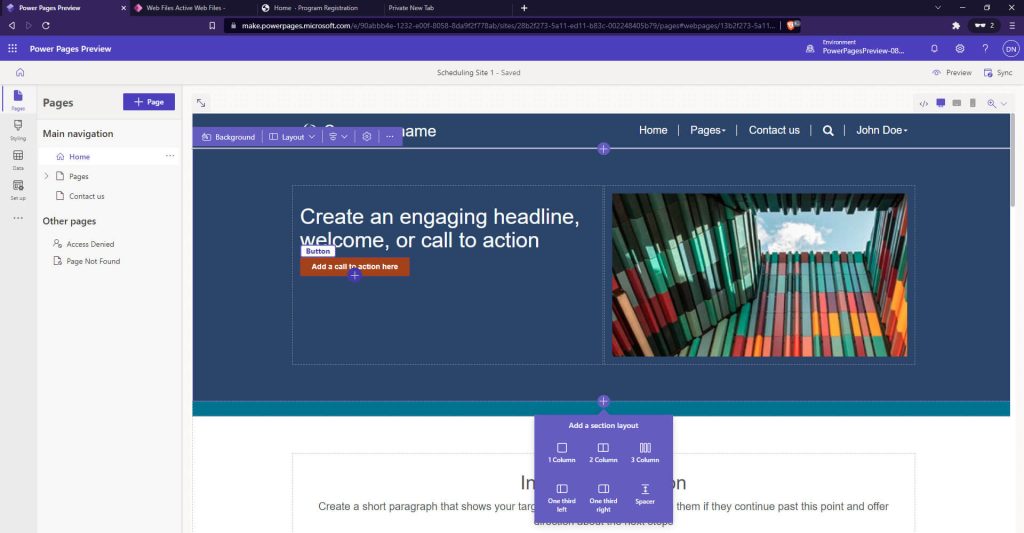 If you want to fine-tune further, you can open the code editor, which will allow developers to make changes or import code from external sources.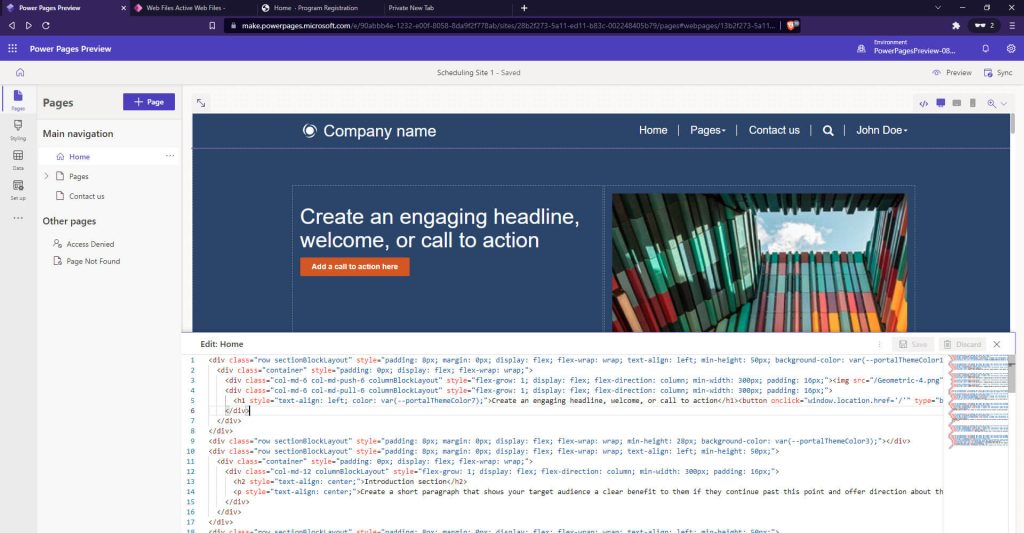 By navigating to the top right, you will have an easily accessible method to view the live website using a QR code for mobile users or open a new tab on the desktop.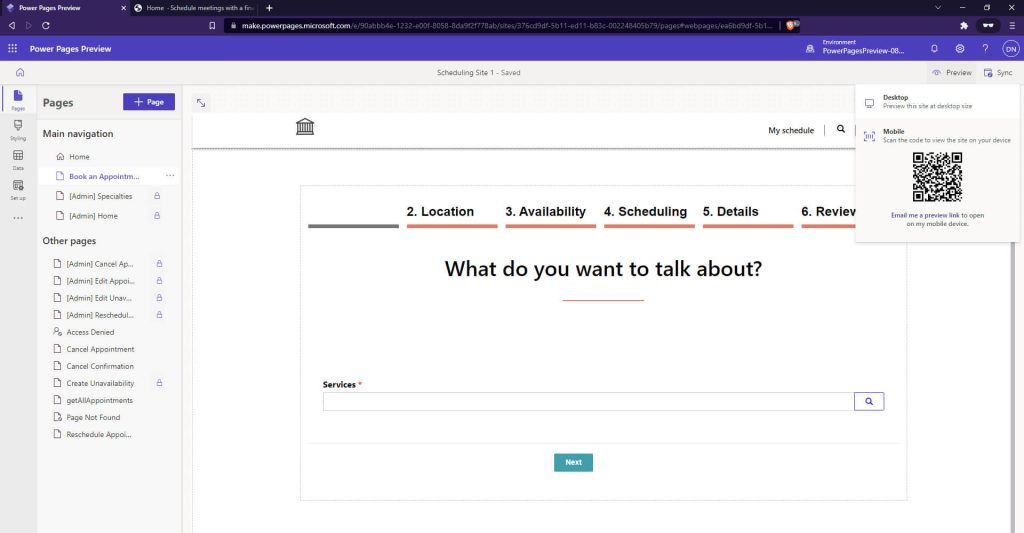 In the live preview, the basic page template for financial businesses provides a user flow to book an appointment with the organisation tailored to their choices such as financial need, location and availability. This can, of course, be customised by the financial organisation.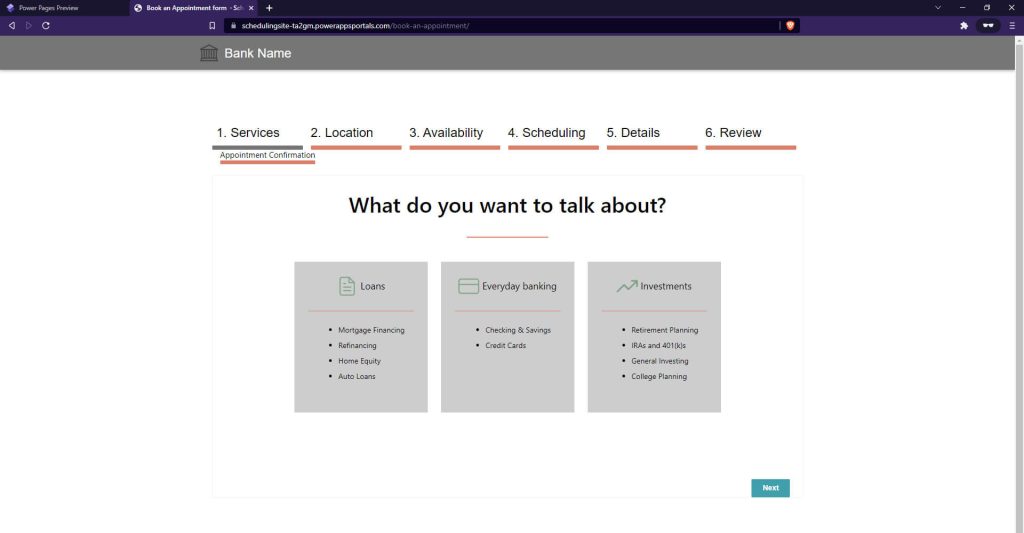 By navigating to 'Data' on the menu, you can see what information drives the dynamic content and flows of the website. For example, you can see who has signed up to forms on the website and inputted fields.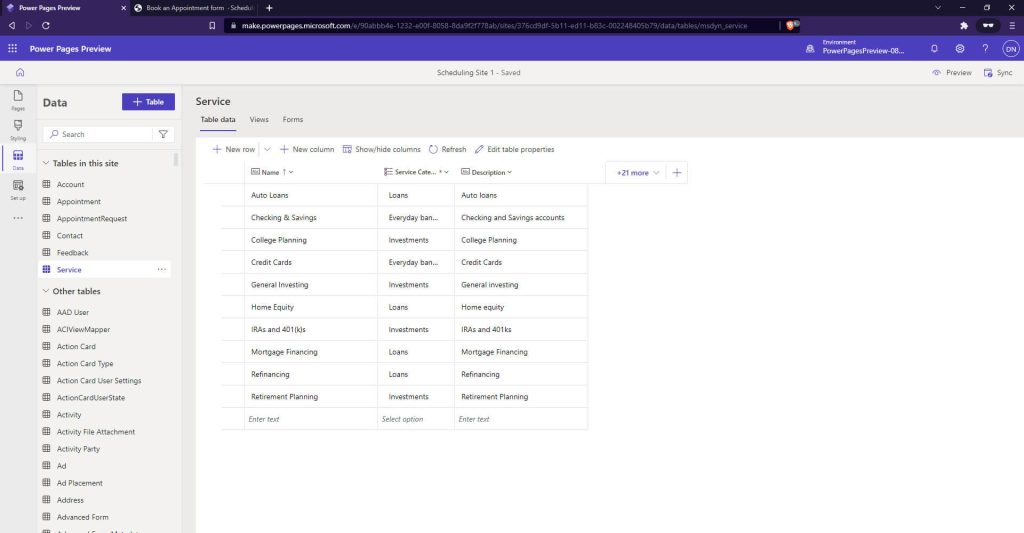 You can also view/pull tables from the wider Dataverse platform under 'Other tables'. If we examine the off-the-shelf website for the education sector, we have a website application that allows students to book after-school clubs with a filterable/sortable menu and search feature.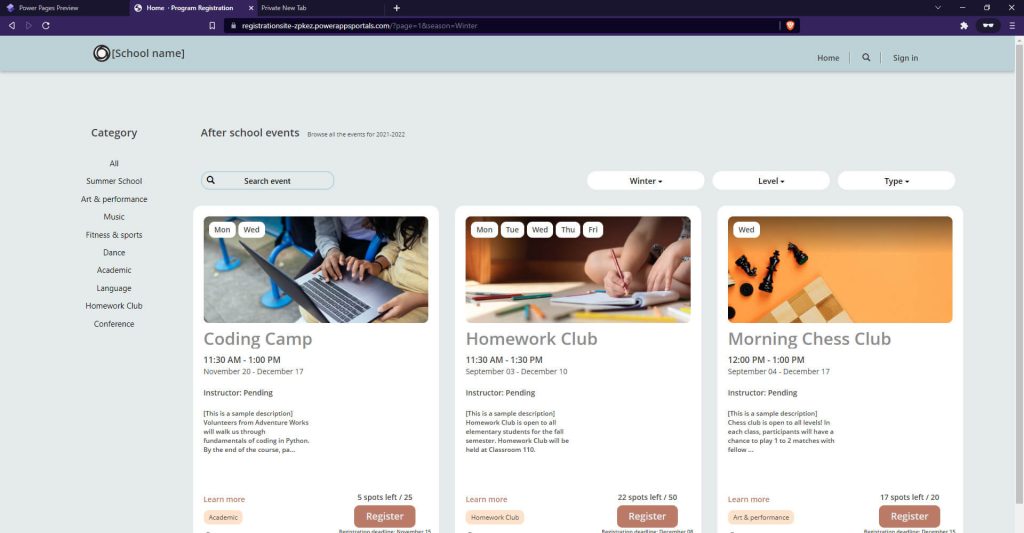 Using dynamic data, it can present information on spaces remaining, when the event occurs and its relevant information. Lastly, we have a preview of a construction template that lets web users apply and submit applications, view application status and follow up with later information. They can also choose to receive email notifications supported by Power Automate.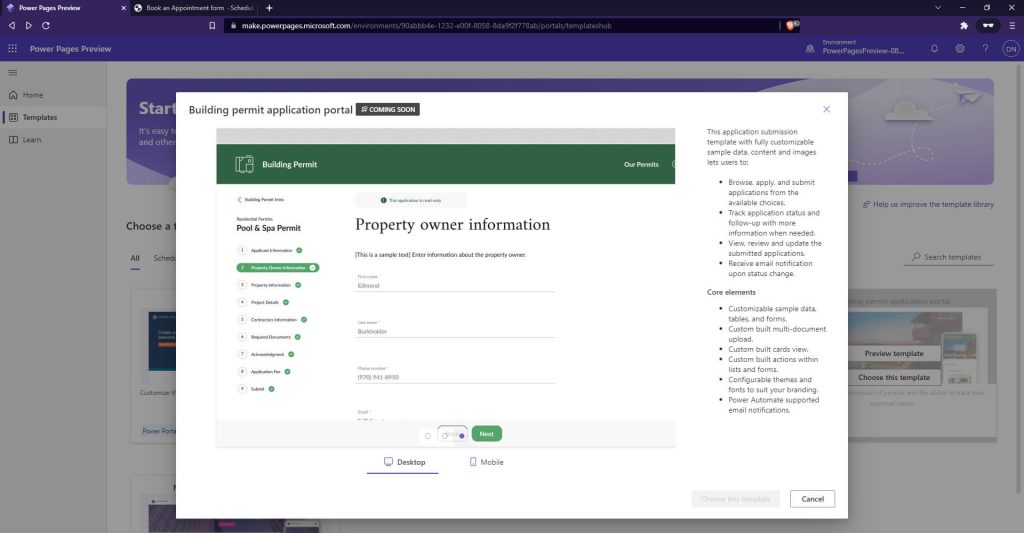 Power Pages Summary
After trialling Power Pages for the last few hours, we are excited by its potential. Microsoft enabling organisations to rapidly build complex web applications that fit the requirements of that business vertical is a step forward. In addition, integration with other Power Platform features so businesses can quickly add in their own flows, automations, virtual agents and other connectors across the Microsoft Dataverse is a compelling option for an organisation already embedded in the Microsoft ecosystem. The flexibility to cater to both professional developers and low code users is core to Microsoft's future business application strategy, and Power Pages is a prime example of this working well. Of course, we look forward to seeing Power Pages fleshed out, we would like to see Teams collaboration, more template verticals, and added features to the editor such as reusable content blocks, but as this is in preview we are confident this will be on the roadmap.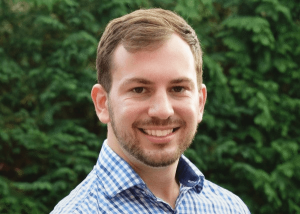 Daniel Norris
Communications Manager
Daniel Norris is the communications manager for The Portal Company. His role is to bring you the latest updates, tips, news and guides on Dynamics 365 Portal. If you have any questions, please get in touch with us.